Bloody hell
on prime
MY RATING: Bloody Fun 🤪
Every now and then there comes a film that makes you think, "they're not actually going to do that, are they?" Bloody Hell bloody did it.
Not only is the main character, Rex, channelling his inner Bruce "Ash" Campbell, but this movie does what most cannot…I never once picked up my phone, I never once looked away, I was absolutely glued to it the whole way.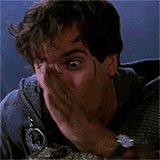 So here's the overall plot to get you started – Rex is a slick guy looking for love in all the wrong places, including making googly eyes at a bank teller who can hardly contain herself with the long line she's forced to deal with, when bank robbers show up and ruin the fun. Rex does the manly thing and kills them all, in her honor of course, and goes to jail. Once he does hard time, he gets out and needs a new start, and flees the country to start over…
…right into the hands of some very sadistic weirdos.
It's one part horror, one part comedy, one part love story, one part crazy.
Loved it. Loved it. Loved it.
I loved it so much, I'm using my super special "Knock Yo Skivvies Off" award, for something that reaches such a pinnacle of excellence.