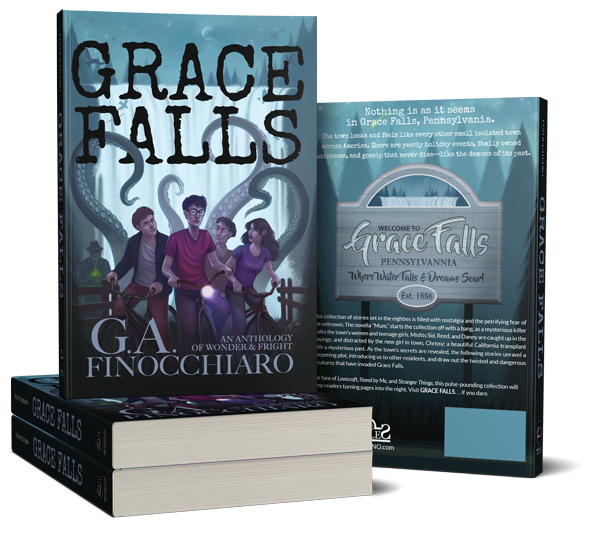 GRACE FALLS
---
Nothing is as it seems in Grace Falls, Pennsylvania.
The town looks and feels like every other small isolated town across America. There are yearly holiday events, family owned businesses, and gossip that never dies—like the demons of its past.
This collection of stories set in the eighties is filled with nostalgia and the petrifying fear of the unknown. The novella "Mum" starts the collection off with a bang, as a mysterious killer stalks the town's women and teenage girls. Misfits Sid, Reed, and Danny are caught up in the slayings, and distracted by the new girl in town, Chrissy; a beautiful California transplant with a mysterious past. As the town's secrets are revealed, the following stories unravel a deepening plot, introducing us to other residents, and draw out the twisted and dangerous creatures that have invaded Grace Falls.
For fans of Lovecraft, Stand by Me, and Stranger Things, this pulse-pounding collection will keep readers turning pages into the night. Visit Grace Falls... if you dare.
BUY NOW FROM THESE RETAILERS
---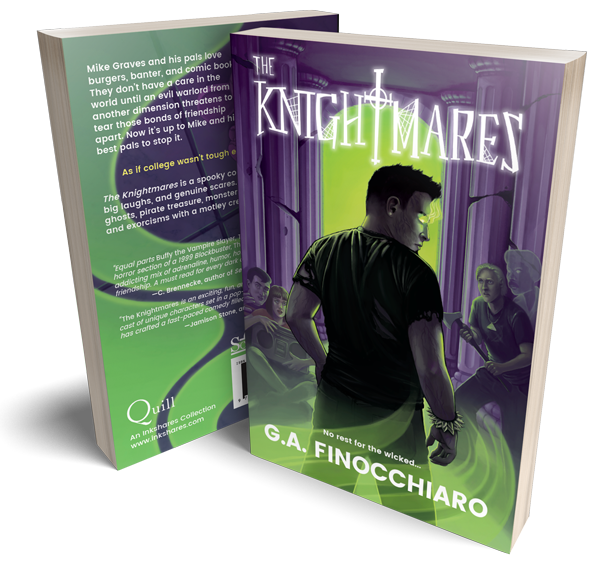 THE KNIGHTMARES
---
Mike Graves and his pals love burgers, banter, and comic books. They don't have a care in the world until an evil warlord from another dimension threatens to tear those bonds of friendship apart. Now it's up to Mike and his best pals to stop it.
As if college wasn't tough enough.
The Knightmares is a spooky comedy filled with heart, big laughs, and genuine scares. Plunge into a world of ghosts, pirate treasure, monsters, alien gods, alchemy, and exorcisms with a motley crew of unlikely heroes.
BUY NOW FROM THESE RETAILERS
---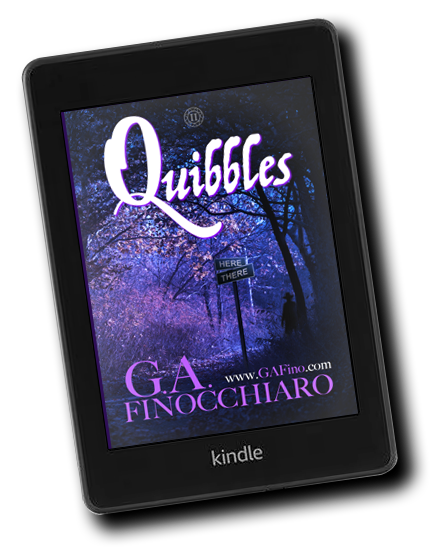 QUIBBLES
---
The night Nikki ran away from home, she left under frustrating circumstances. A fight with her parents was the last straw and before midnight, she was gone—not that she had any idea where she was going. However, she may have taken a different path out of town if she had known of the dangers that would find her at the crossroads between Here and There.
BUY NOW FOR KINDLE
---